Sound barrier installation scheme: sound barrier semi-finished product transportation → column installation → sound barrier screen installation → roof panel installation → bottom panel installation. In the process, the sound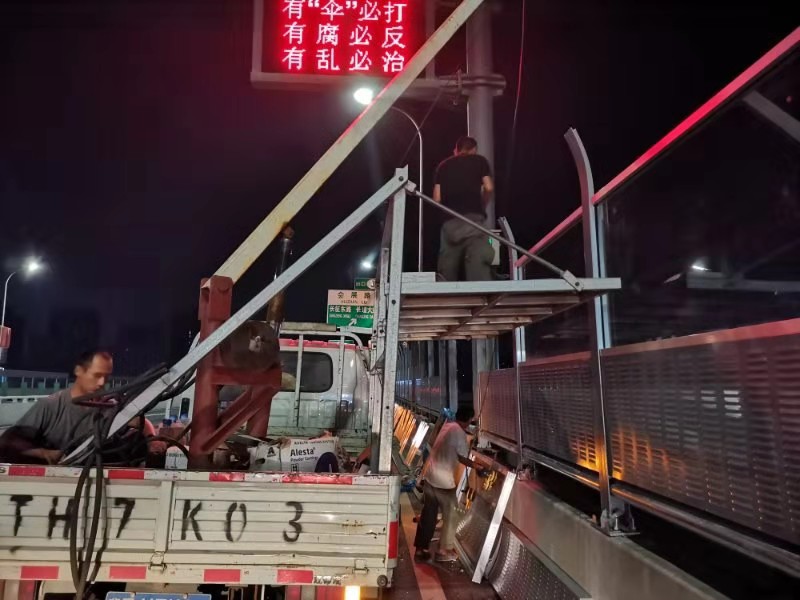 barrier column is mounted on the base, and the embedded parts of the column must be horizontally horizontal and horizontally horizontal before installation. The process that is prone to safety hazards is the installation of the column and the installation of the sound barrier screen, and is also the main project of the sound barrier installation project.
   The safety hazard of the column installation process is mainly the safety and stability of the column itself when the column is hoisted and the safety of the construction workers at high altitude.
   Before the sound barrier column is hoisted, check the design requirements on the flat ground according to the drawing design requirements. Whether the six faces of the column are vertical and parallel, and whether the dimensions are correct, after confirming, the column is lifted, slowly moved, and installed on the embedded part.
Sound barrier installation scheme: The main safety hazard of the sound barrier screen installation process is the danger of the screen body falling and the worker's own altitude work when the screen body is inserted into the column groove. For this construction process, the wire rope is threaded into the reserved hole of the screen and left long enough before the screen is installed.
   The ground worker transmits the screen body to the construction personnel of the working platform. The construction personnel lifts the screen body at the same time and inserts it into the steel tank of the column. After that, the steel wire rope is inserted into the upper part of the column to reserve a hollow hole to fasten the fastener. Avoid human injury, and also protect the screen from collisions and cause quality problems.
The roof slab installation project is a full-height work in the sound barrier installation project. During installation, the construction personnel must attach the safety belt to the top of the scaffolding to avoid a safety accident caused by the body swaying during the operation. The undercover installation is the entire sound barrier. The project is the closing project of the project. The project is installed on the inner side of the sound barrier. Due to the large amount of engineering work, the installation of the undercover slab may be carried out after opening. Therefore, traffic lights, signs and special signs will be set within the construction scope. Security guards divert traffic.
  Our factory has a professional installation team, professional technical knowledge and experienced staff, the quality of each batch of goods will undergo strict inspection. Each sale will sign a formal contract with the customer, using high-quality raw materials to ensure product quality and market orientation. Establish reasonable prices, strictly control quality, have strong technical force, scientific process and perfect quality inspection system, complete product specifications and excellent quality.
Hebei factory direct sales, low prices, look forward to your call.


---
Post time: Dec-02-2019